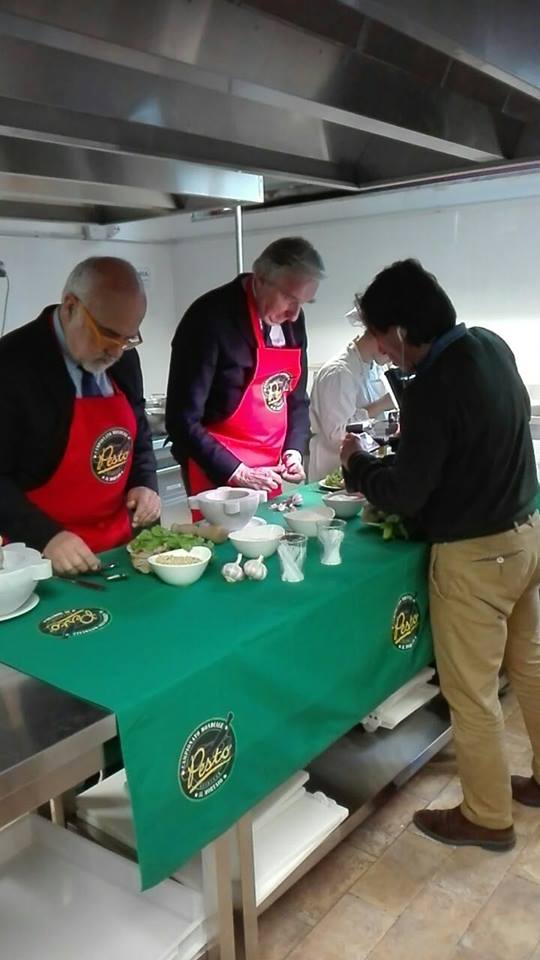 Non mancate ai nostri prossimi appuntamenti!
Mercoledì 27 febbraio alle ore 21.00 saremo presenti nella trasmissione televisiva "Viaggio in Liguria" in onda su Primocanale per una dimostrazione di pesto genovese al mortaio realizzata nella sede dell'Ente di Formazione Professionale CIF di Borzoli!
La trasmissione condotta da Gilberto Volpara con la partecipazione del cucinosofo Sergio Rossi è un viaggio tra le bellezze e le eccellenze enogastronomiche della Liguria.


Il pesto genovese sarà tra i protagonisti della bella iniziativa di Italia Photo Marathon che farà tappa anche a Genova il prossimo 7 aprile!


La Genova Photo Marathon è un evento culturale aperto a tutti gli appassionati di fotografia cittadini e turisti finalizzato alla promozione della cultura fotografica, alla diffusione delle eccellenze turistiche, paesaggistiche e enogastronomiche della città di Genova.
L'evento si svolgerà il 7 aprile 2019 in Piazza Caricamento.


I partecipanti dovranno caricare sul portale dell'evento una foto per ogni tema, contribuendo a formare una grande gallery della città.
Sono attesi circa 1000 partecipanti.

All'evento seguirà una premiazione il 29 maggio a Palazzo Ducale delle migliori foto, decretate da una giuria di fotografi locali e nazionali, ed una grande mostra gratuita aperta al pubblico che restituirà un affresco vivo ed originale della città.
L'evento giunge quest'anno all'importante traguardo della 5° edizione e si conferma un appuntamento fisso e atteso del panorama culturale cittadino e

nazionale, essendo Genova da quattro anni la tappa inaugurale del Tour italiano che quest'anno toccherà le città di GENOVA, FIRENZE, ROMA, PARMA, MILANO e TORINO.

L'Associazione Palatifini e il Campionato Mondiale di Pesto Genovese al Mortaio sono City Partner di questo importante evento!!!


Seguiteci anche sui ns. social! Stay tuned!


Siamo presenti anche sulla pagina facebook!
_____________________________________________________________________

Do not miss our upcoming events!
The transmission conducted by Gilberto Volpara with the participation of the Cucinosofo Sergio Rossi is a journey through the beauties and gastronomic excellences of Liguria.
The Genoese pesto will be among the protagonists of the beautiful initiative of Italy Photo Marathon that will also stop in Genoa on April 7th!
The Genoa Photo Marathon is a cultural event open to all photography enthusiasts citizens and tourists aimed at promoting photographic culture, the dissemination of the tourist, landscape and food and wine excellences of the city of Genoa.
The event will take place on 7 April 2019 in Piazza Caricamento.
The participants will have to upload a photo for each theme on the portal of the event, helping to form a large gallery of the city.
Approximately 1000 participants are expected.
The event will be followed by an award ceremony on May 29 at the Palazzo Ducale of the best photos, decreed by a jury of local and national photographers, and a large free exhibition open to the public that will return a living and original fresco of the city.
This year the event reaches the important milestone of the 5th edition and is confirmed as a fixed and long-awaited appointment for the city and national cultural scene, as Genoa has been the inaugural stage of the Italian Tour for four years, which this year will touch the cities of GENOA , FLORENCE, ROME, PARMA, MILAN and TURIN.
The Palatifini Association and the World Championship of Pesto Genovese al Mortaio are City Partners of this important event !!!
We are also present on the facebook page: