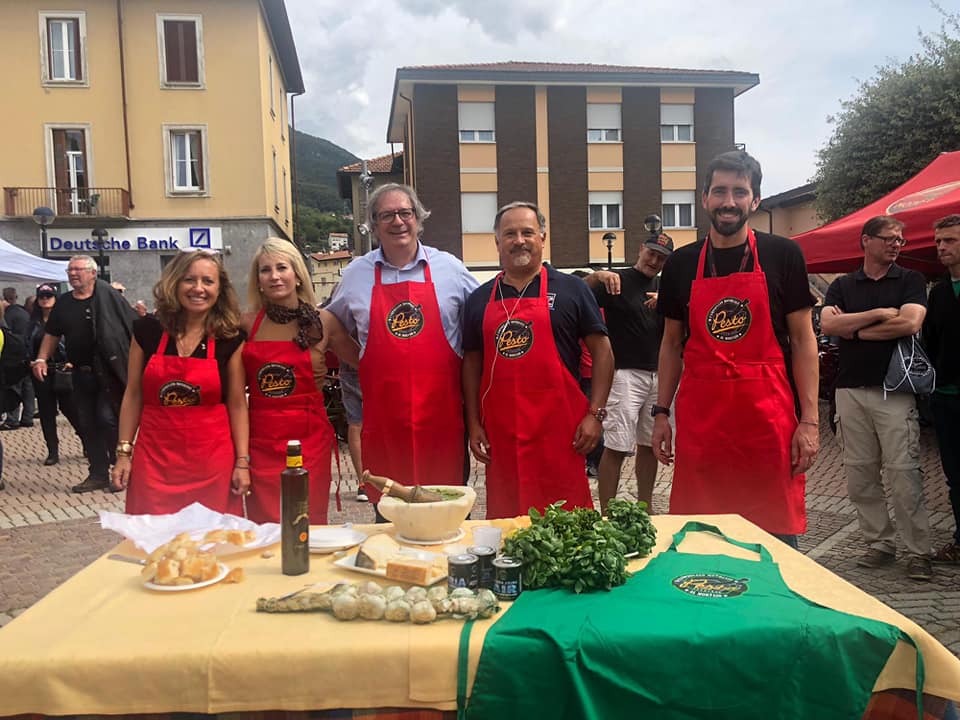 Le attività del Campionato sono riprese a pieno ritmo!
Il primo settembre abbiamo realizzato ben due gare eliminatorie, la prima a Serra Riccò in occasione del Centenario dalla Fondazione del Club Famigliare Castagna e la seconda a Quiliano (SV), nell'ambito della rassegna "Agrigusta",

tradizionale festa di promozione del territorio e dei prodotti tipici locali.
Sabato 7 poi siamo saliti sull'idrovolante a Mandello sul Lario dove si è svolto il motoraduno Guzzi!


La genovesità e la tradizione del Pesto Genovese al Mortaio si sono inseriti perfettamente nello splendido contesto del raduno annuale.


E

Genova ospiterà nel maggio 2021 una tre giorni per celebrare il centenario della fondazione della Moto Guzzi. L'evento si aggiungerà al tradizionale raduno settembrino di Mandello del Lario, sede dello stabilimento.




Simbolicamente, proprio a Mandello sul Lario, in occasione del raduno annuale, è stato dato il via al lavoro preparatorio per questo importante appuntamento, grazie al quale verranno raccolti fondi a favore dell'Ospedale Pediatrico Gaslini.
Presente in rappresentanza del Comune di Genova l'assessore Paola Bordilli che ha incontrato il sindaco di Mandello del Lario, Fasoli, il presidente del Moto Guzzi World Club, Arosio, e i rappresentanti del Comitato del Motoraduno Internazionale.
Il motivo di questa sorta di gemellaggio – suggellato anche dalla presenza a Mandello sul Lario di un "ambasciatore" d'eccezione, il pesto genovese e il Campionato Mondiale di Pesto Genovese al Mortaio – è che Genova è la città di nascita di Giorgio Parodi, cofondatore, insieme a Carlo Guzzi e Giovanni Ravelli, nel 1921 (Atto costitutivo redatto e registrato a Genova il 15 marzo 1921) della "Moto dell'Aquila".
Assieme a Roberto Panizza Presidente dell'Associazione Palatifini, che darà il patrocinio alla manifestazione del Centenario previsto nel maggio 2021, e all'assessore Bordilli, erano presenti Elena Bagnasco, nipote di Giorgio Parodi, e l'avvocato Carlo Golda, in rappresentanza dell'Istituto Gaslini.
Non perdete i nostri prossimi appuntamenti! Stay tuned!


Siamo presenti anche sulla pagina facebook!


_____________________________________________________________________


The activities of the Championship are resumed at full speed!
On September 1st we held two preliminary competitions, the first at Serra Riccò on the occasion of the Centenary of the Foundation of the Castagna Family Club and the second at Quiliano (SV), as part of the "Agrigusta" festival, a traditional festival to promote the area and the typical local products.
On Saturday 7th we boarded the seaplane at Mandello sul Lario where the Guzzi motorcycle rally took place!
Genoese culture and Genoese Pesto tradition took place perfectly in the splendid context of the annual gathering.
And Genoa will host three days in May 2021 to celebrate the centenary of the founding of Moto Guzzi.
The event will be added to the traditional September gathering of Mandello del Lario, site of the plant. Symbolically, in Mandello sul Lario, on the occasion of the annual meeting, preparatory work was started for this important event, thanks to which funds will be collected for the Gaslini Pediatric Hospital.
There were the Councilor Paola Bordilli, as representetive of the Municipality of Genoa, who met the mayor of Mandello del Lario, Fasoli,

the president of the Moto Guzzi World Club, Arosio, and the representatives of the International Motorbike Committee.
The reason for this sort of twinning - also sealed by the presence in Mandello sul Lario of an exceptional "ambassador", the Genoese Pesto and Genova Pesto World Championship - is that Genoa is the birthplace of Giorgio Parodi, co-founder, together with Carlo Guzzi and Giovanni Ravelli, in 1921 (Constitutive Act drawn up and registered in Genoa on 15 March 1921) of the "Moto dell'Aquila".
Together with Roberto Panizza President of the Palatifini Association, who will sponsor the Centenary event scheduled for May 2021, and the councilor Bordilli, there were Elena Bagnasco, nephew of Giorgio Parodi, and attorney Carlo Golda, representing Gaslini Institute.
Don't miss our next dates!
Stay tuned!
We are also present on the facebook page!