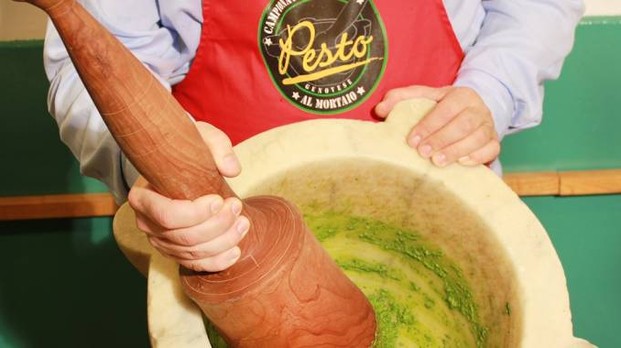 Continuano anche d'estate le nostre attività e le gare eliminatorie che ci porteranno alla prossima Edizione del Campionato Mondiale di Pesto Genovese al Mortaio!


Neanche il caldo più torrido riesce a fermarci!!!


Abbiamo realizzato un'appassionante gara eliminatoria con gli studenti Erasmus a Palazzo della Borsa di Genova, dove lo studente messicano Kevin Serrano ha sbaragliato gli altri 9 concorrenti.


Grazie all'articolo di Elisa Nata su Io Donna abbiamo avuto modo di ripercorrere non solo la ricetta tradizionale del pesto genovese, ma anche di ricordare come questa celebre salsa ligure non rappresenta solo un piatto ma rappresenta anche un territorio, con la sua cultura, la sua storia e le sue ricchezze.


Anche a Parigi abbiamo ricordato quali sono gli elementi che caratterizzano il vero pesto genovese, in un'intervista realizzata con Roberto Panizza su 6play, nel format televisivo Très Très Bon Diner:


Da anni la nostra Associazione appoggia il Fondo Tumori e Leucemie del Bambino che si occupa della salute e del benessere dei bambini attraverso l'investimento sulla professionalità dei medici, la ricerca e l'assistenza diretta ai piccoli malati in ospedale.


Abbiamo pestato di fronte al suggestivo panorama di Boccadasse assieme al Campione Mondiale 2018 Emiliano Pescarolo e alla concorrente del Campionato Mondiale ma anche del format Masterchef Simonetta Piccardo, in occasione del collegamento col Tg Itinerante del Tg 3 Liguria che ha proposto una suggestiva vetrina del prodotti Dop e dei prodotti liguri che rappresentano l'eccellenza della nostra regione nel mondo.


Vi auguriamo buone ferie e buona estate!!!! E buon Pesto a tutti!!!


Per conoscere i prossimi appuntamenti verso l'ottavo Campionato del Mondo di Pesto genovese al mortaio iscriviti alla nostra newsletter compilando il form on line:


Siamo presenti anche sulla pagina facebook!


_____________________________________________________________________


Our activities and the preliminary competitions that will take us to the next edition of the Pesto Genovese World Championship at the Mortar will continue in the summer!
Not even the most torrid heat can stop us!!!
We made an exciting preliminary competition with Erasmus students at Palazzo della Borsa in Genoa, where the Mexican student Kevin Serrano defeated the other 9 competitors.
Thanks to the article by Elisa Nata on "Io Donna" we have had the opportunity to retrace not only the traditional recipe of Genoese pesto, but also to remember how this famous Ligurian sauce is not only a dish but also represents a territory, with its culture, its history and its wealth.
Also in Paris we remembered the elements that characterize the real Genoese pesto, in an interview with Roberto Panizza on 6play, in the television format Très Très Bon Diner:
For years our Association has supported the Children's Cancer and Leukemia Fund, which deals with the health and well-being of children through investment in the professionalism of doctors, research and direct assistance to young patients in hospital.
We made pesto in front of the enchanting panorama of Boccadasse together with the 2018 World Champion Emiliano Pescarolo and the competitor of the World Championship but also of Masterchef Simonetta Piccardo, on the occasion of the Tg 3 Liguria Touring News that proposed a suggestive showcase of the Dop products and Ligurian products that represent the excellence of our region in the world.
We wish you good holidays and good summer!!!! And good pesto to all!!!
If you want to know next rendez vous towards the 8th Genoa Pesto World Championship subscribe our newsletter filling out the online form:
We are also present on the facebook page: