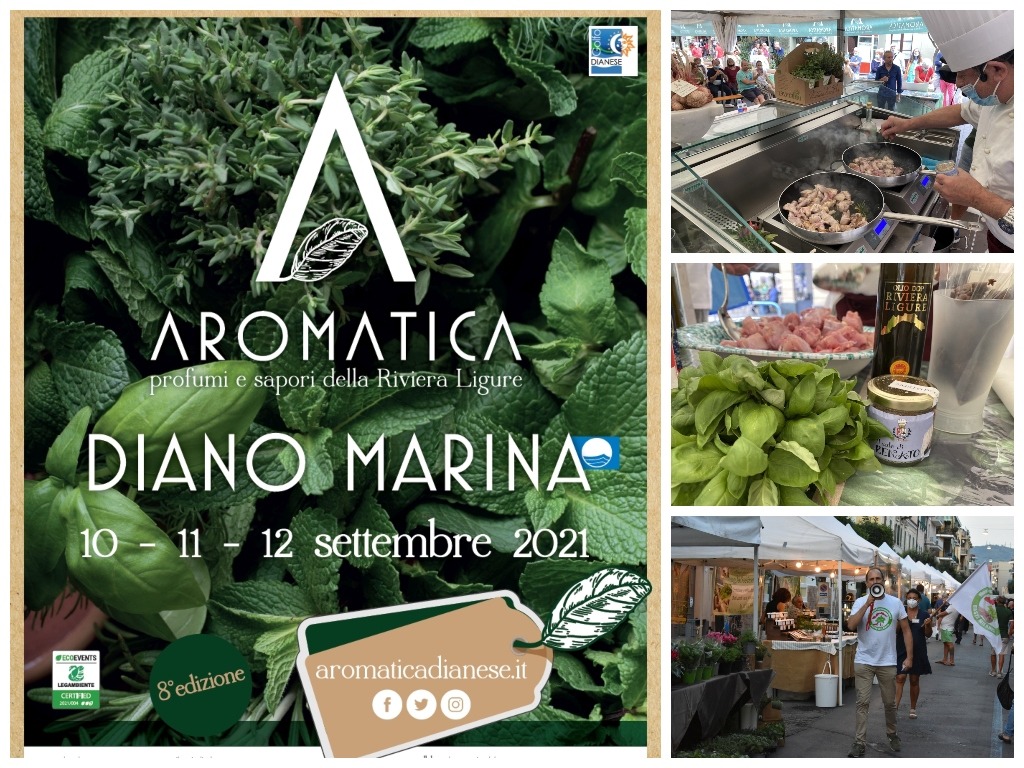 Dopo il difficile periodo della pandemia si ricomincia con gli eventi tradizionali, fiere e manifestazioni ovviamente rispettando tutte le norme di sicurezza ancora indispensabili e si ricomincia quindi con le gare eliminatorie!


Non potevamo mancare ad "Aromatica, profumi e sapori della Riviera Ligure", rassegna giunta all'ottava edizione che si terrà a Diano Marina dal 10 al 12 settembre. Al basilico e al pesto – così come a tutti i prodotti di eccellenza della Riviera Ligure – è dedicato ampio spazio durante tutta Aromatica. Sarà una delle star degli spazi di Assaggia la Liguria, protagonista di laboratori e degustazioni, esposto in numerosi stand e sarà anche il protagonista principale della gara eliminatoria del

Campionato Mondiale di Pesto al Mortaio

– la prima in presenza dopo l'emergenza sanitaria – il cui vincitore parteciperà di diritto a Genova alla prossima edizione della finale mondiale del Pesto Championship 2021-2022.
Alla gara eliminatoria durante Aromatica (sabato, ore 17:30, area eventi, nel Parco di Villa Scarsella) parteciperanno 10 concorrenti: ognuno avrà a disposizione una postazione di lavoro con tutti gli ingredienti e gli strumenti necessari per la preparazione del pesto. Gli ingredienti previsti dalla ricetta ufficiale del Campionato mondiale sono: il Basilico genovese DOP, i pinoli italiani, l'aglio di Vessalico, il Parmigiano Reggiano DOP, il Fiore Sardo DOP, il sale marino delle saline di Trapani e l'olio extravergine di oliva DOP Riviera Ligure. Un esperto introdurrà e preparerà a titolo dimostrativo la salsa al mortaio. I partecipanti avranno 20 minuti per preparare il pesto, che verrà sottoposto all'assaggio dei giudici.
Tra i giurati della gara eliminatoria anche il leader dei Buio Pesto, Massimo Morini, cantante, direttore d'orchestra e regista, che ha vinto il Festival di Sanremo 2013 in qualità di direttore d'orchestra per Antonio Maggio. Morini nell'occasione interpreterà l'inno ufficiale del Pesto Championship.


Aromatica – un aggettivo che nel Golfo Dianese è diventato un sostantivo – è un evento di qualità che ha lo scopo di valorizzare i prodotti tipici di eccellenza e promuovere il territorio. Il format prevede di accogliere chef ed esperti di grande prestigio nel centro pedonale di Diano Marina, oltre a stand di produttori di eccellenze (prevalentemente liguri), cooking show, conferenze, laboratori, presentazioni di libri, truck che propongono street food di qualità.


____________________________________________________________
After the difficult period of the pandemic we start again with traditional events, fairs and demonstrations obviously respecting all the safety rules that are still essential and we start again with the preliminary competitions!
We could not miss "Aromatica, scents and flavors of the Ligurian Riviera", an exhibition now in its eighth edition to be held in Diano Marina from 10 to 12 September. Ample space is dedicated to basil and pesto - as well as to all the excellent products of the Ligurian Riviera - throughout Aromatica. He will be one of the stars of the spaces of Assaggia la Liguria, protagonist of workshops and tastings, exhibited in numerous stands and will also be the main character of the preliminary competition of the Pesto al Mortaio World Championship - the first in attendance after the health emergency - whose winner will participate by right in Genoa in the next edition of the world final of the Pesto Championship 2021-2022. 10 competitors will participate in the preliminary competition during Aromatica (Saturday, 5:30 pm, events area, in the Park of Villa Scarsella): each will have a workstation with all the ingredients and tools necessary for the preparation of pesto. The ingredients included in the official recipe of the World Championship are: Genoese PDO Basil, Italian pine nuts, Vessalico garlic, PDO Parmigiano Reggiano, Fiore Sardo PDO, sea salt from the Trapani salt pans and extra virgin olive oil. DOP Ligurian Riviera. An expert will introduce and prepare the mortar sauce as a demonstration. Participants will have 20 minutes to prepare the pesto, which will be subjected to tasting by the judges.
Among the jurors of the preliminary competition also the leader of Buio Pesto, Massimo Morini, singer, conductor and director, who won the 2013 Sanremo Festival as conductor for Antonio Maggio. Morini will play the official hymn of the Pesto Championship on the occasion.
Aromatica - an adjective that in the Dianese Gulf has become a noun - is a quality event that aims to enhance the typical products of excellence and promote the territory. The format foresees to welcome chefs and experts of great prestige in the pedestrian center of Diano Marina, as well as stands of producers of excellence (mainly Ligurian), cooking shows, conferences, workshops, book presentations, trucks offering quality street food.