MORTAR-MADE PESTO SAUCE RECIPE
FOR THE WORLD CUP
4 bunches of fresh PDO (Protected Designation of Origin) Genoese basil, which guarantees high-quality taste and flavour
30 g pine nuts
445-60 g aged Parmesan cheese, grated
20-40 g Fiore Sardo cheese (Pecorino Sardo), grated
1-2 garlic cloves from Vassalico (Imperia)
10 g coarse salt
60-80 cc PDO extra-virgin olive oil from the "Italian Riviera", renowned for its sweet and fruity taste, which adds flavour to the basil and dressing.
Preparation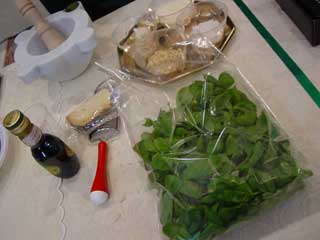 The marble mortar and wooden pestle are the tools traditionally used to make pesto.
Wash the basil leaves in cold water and dry them on a tea towel but don't rub them.
In a mortar finely crush the garlic clove and pine nuts until they are smooth. Add a few grains of salt and the non-pressed basil leaves, then pound the mixture using a light circular movement of the pestle against the sides.
Repeat this process.
When the basil drips bright green liquid, add the Parmesan cheese and the Fiore sardo cheese.
Pour in a thin layer of PDO extra-virgin olive oil from the Italian Riviera, which lightly blends the ingredients without overdoing.
The preparation must be done as quickly as possible to avoid oxidation problems.
This is not the only possible way to make pesto. In Genoa and Liguria each person has a secret to this recipe: you will never find two cups of pesto that are the same