History and Quotes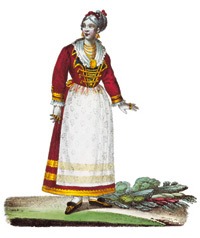 The first and most complete book about ligurian gastronomy is "La Cucineria Genovese", written by Gio Batta Ratto and his son Giovanni after the third edition in 1863.
The Pesto recipe (or "battuto alla genovese") from the book is:
Take a slice of garlic, basil (baxaico) or marjoram and parsley, a mix of grated Dutch cheese and parmesan cheese and pine nuts: using a mortar and a pestle grind all those ingredients with a little butter until you get a sauce Melt it with some olive oil. With this sauce you can season lasagne, gnocchi (troffie), making it more liquid by adding hot water. The differences between the old and the current recipe is the Dutch chese or Gouda, common in Genoa due to maritime trade with the European northern countries, and marjoram and parsley alternatives to basil due to the tight periodicity of the basil cultivation at that age.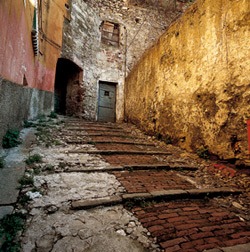 In 1876 Casaccia's Genovese-Italian dictionary:
Pesto: this item hasn't an Italian corrispondence, it is a sort of sauce made of basil or marjoram and parsley, garlic, cheese, ground together in a mortar and melted with olive oil and water, used to cook and season soup. As you can see the recipe is almost the same but there is no specified type of cheese.
You can find out an interesting quote also in the book"I Liguri a Tavola, Itinerario Gastronomico da Nizza a Lerici" written by Massimo Alberini and published by Longanesi in 1965.
Alberini remarks the importance of using good Ligurian olive oil (extra vergine), a "yellow-gold colored oil with some green reflexes, a great finesse and delicious smell, tasty but not stifling, very delicate and sincere".
Curious is the pesto's origin analysis "a derivation for the very old "agliata", the plebean medieval sauce, based of ground garlic bulbs" that remark how Rossi (1876) in his recipe was pretty vague about the amount of basil to use (some leaves), and abound with the garlic (three or four slices).
Some quotes:
What's pesto?

Easy to say: a slice of garlic, basil, sardo cheese, a good mortar for the mince and a fine oil to melt it all.

and the doses?

My dear lady, figure out yourself and may the providence help you!
In the rare 1937 "Almanacco Cucinario della Scena italiana" Alessandro Varaldo wrote: As was saying the popular Rosso, (waiter and then associate of Monterosa restaurant behind Piazza Fontane Marose in Genoa):" To make a good pesto you have to born that way as you born poet" and "Pesto, is like the Genovese flag, is the rival of red cross (Genoa's flag is a red cross on a white background) and San Giorgio (the city protector).
So, pesto or genovese mince is the unreachable classic season, "that can magically calm down a revolt on board"as was saying an old sea dog in charge of a steamship full of emigrants during the time of "Oceano" by Edmondo De Amicis. "L'oil can beat sea and pesto can beat long faces" he said.
In 1973 Giuseppe Gavotti, in his book "Cucina e vini di Liguria" coined the definition of "pesto maleducato" ("rude pesto") referring to the abound of garlic, a taste very appreciated by Arab and Eastern tradition, that influenced Genoa in the sauce preparation from the medieval age until 1800.