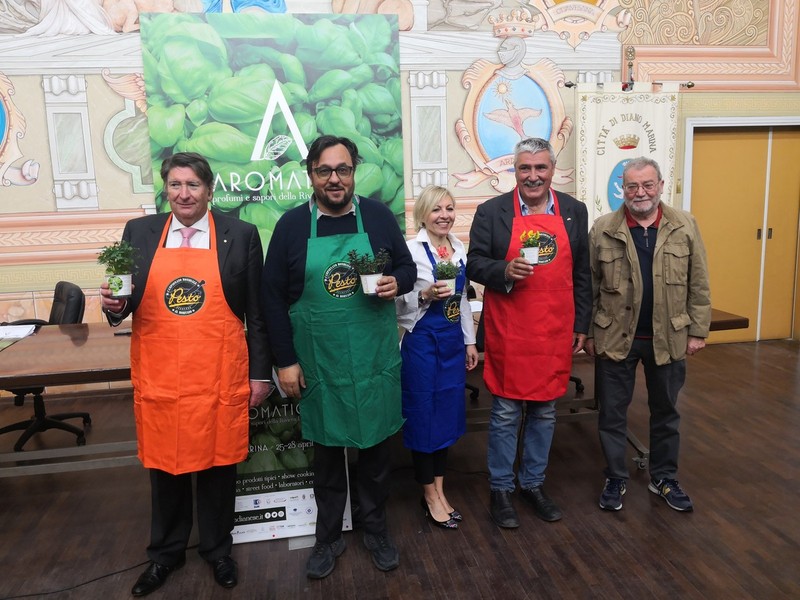 From April 25th to 28th: "Aromatic" in Diano Marina
27 April 2019 @ 15:00

-

18:00
Back from April 25th to 28th, "Aromatic, scents and flavors of the Ligurian Riviera".
Diano Marina and in general the whole gulf and its hinterland will be animated for four days by: basil, aromatic herbs, typical products and excellences of the agri-food and food and wine industries. All through themed dinners, show cooking, workshops, presentations, stands producers, street food, conferences, conventions and much more.
As explained Tuesday 16 u.s. during the presentation press conference by the mayor Giacomo Chiappori, by the councilors Davide Carpano and Barbara Feltrin, by the president of the Chamber of Commerce Enrico Lupi and by the first citizen of Diano Arentino Giacomo Musso representing the hinterland.
Pesto World Championship, made thanks to the Palatifini Association represented at the press conference by Gianni Arimondo which highlighted: "We are pleased to have been invited to participate with a preliminary competition of the Championship on Saturday 27 th of April so ten challengers will have the opportunity to try their hand at the preparation of the pesto with mortar during Aromatica.
The winner will have the right to participate in the final of the World Championship that will take place at the Palazzo Ducale in Genoa on 28 March 2020.
The complete four-day program: www.aromaticadianese.it