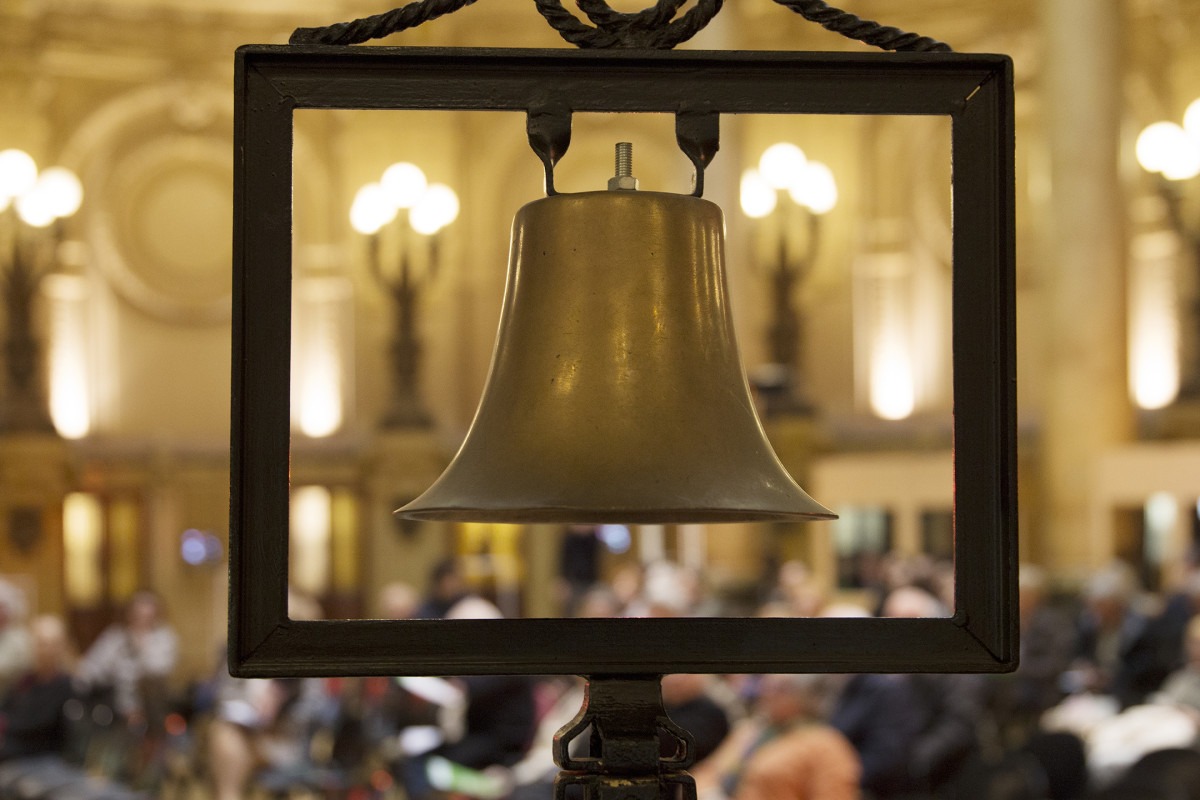 Mortars and pestles in food world cultures
Precisely in a month, on Friday, 7 April, Genova will host the II° International Meeting "Mortars & Pestles in Food Cultures" organised by Palatifini Cultural Association.
This year, the event aims to link the utilization of mortar to the development of the basic alimentary habits, like pasta, for example, for which Liguria is proud of a knowledge dated back to the Middle Ages.
The convention, that will see the participation of important representatives for local and national institutions and international experts, will also host an exhibition of ancient family mortars. All the Genoese citizens and all the friends of Palatifini Cultural Association are invited to bring their mortar, that will be exposed in the hall of the Palazzo della Borsa, the former Stock-Exchange Building (for more infos contact segreteria@pestochampionship.it).
The Meeting is part of the activities of in-depth examination of social and alimentary tradition proper of Ligurian community and of all those populations who have in common the use of mortar for their culinary excellences and social habits.
Save the date: 7 April 9,00 a.m. in via XX Settembre 44, Genova (Palazzo della Borsa). We'll update soon more infos and the complete Meeting schedule.
8.30 – 9.00 WELCOME
FIRST SESSION (9.00-10.00)
9.00 PAOLO ODONE
President of Genoa Chamber of Commerce
9.10 ROBERTA PINOTTI
Minister of the Italian Republic
9.20 FLAVIA PICCOLI NARDELLI
President of Culture Commission for the Chamber of Deputies
9.30 PAOLO COMANDUCCI
Rector of University of Genova
9.40 MARCO DORIA
Mayor of Genova
9.50 GIOVANNI TOTI
President of Liguria
Welcome and greeting speeches, first considerations
SECOND SESSION (10.00-11.15)
10.00 STEFANIA BALDINOTTI
The Ministry of Cultural Heritage and Activities and Tourism
The Convention for the Safeguarding of the Intangible Cultural Heritage and «communities participation»
10.15 MARIA SICA
Italian National Commission for UNESCO
CNIU Mission, Tasks and Functions
10.30 SERENA BERTOLUCCI
Director of the National Museums in Liguria
Intangible Cultural Heritage: a Resource
10.45 CARLA SIBILLA
Genova Councillor for Culture and Tourism
Tourism and Food&Wine Traditions, the Genova Case
11.00 ROBERTO PANIZZA
Presidente of Palatifini Cultural Association
Pesto Genovese, a Worldwide Expansion
THIRD SESSION (11.15-13.00)
11.15 SERGIO ROSSI
Gastronome
Pasta Tradition in Liguria
11.30 LAURA SCHENONE
Writer, NY
Forgetting and Remembering: The Migrations of Pesto
11.45 JASON WILSON
Writer. Washington Post and other publications
Breaking With Tradition: American Pesto
12.00 ALESSANDRA GUIGONI
Anthropologist. European Institute of Design (IED). Cagliari
Pasta of Sardinia: History and Culture of a Thousand-Year Old Artifact
12.15 LIVE COOKING
"Filindeu" Pasta (a video by PJ Gambioli)
12.20 ALEJANDRO FARFAN
University of Ciudad de Mexico
Ahucamolli: the Green Pleasure of Eating. Mexican History and Culture
12.35 LIVE COOKING
How to prepare guacamole with a mortar (Alejandro Farfan)
12.45 SARA DI PAOLO
Palatifini Cultural Association
International Observatory of Genovese Pesto
13.00 – 14.00 BUFFET
FOURTH SESSION (14.00-15.10)
14.00 JUNJI TSUCHIYA
Waseda University (Tokyo)
Harmonious diversity: native food culture and sustainable alimentation in Japan
14.15 LIVE COOKING
How to prepare gomasio with a mortar (Marco Rivara)
14.30 SAMIRA ZGHEIB e CARMEL MHANNA
American University of Beirut
Keshek History, Lebanese Rural Cuisine and LIVE COOKING
14.45 LIVE COOKING
How to prepare keshek with a mortar (Zgheib and Mhanna)
14.55 ANTIDA GAZZOLA
Sociologist. University of Genova
Pasta and Familiar Consume. A Food Biography of a Ligurian Family
FIFTH SESSION (15.10-16.30)
15.10 MICHAEL SINGLETON
Anthropologist. University of Lovanio
Sociological and Symbolical Impact of Food in African Cultures
15.25 ANTONIO GUERCI
Anthropologist. UNESCO Chair and University of Genova
Mortars and proves from the Ethnomedicine Museum of the University of Genova
15.40 FEDERICA PASCALI
Physician certified in Alimentation Science. ASL3 Genova
Pasta Properties, Basic Aliment in Mediterranean Diet, Nutritional and Technological Aspects
15.55 SAMIR SUKKAR
Dietist. IRCCS San Martino (Genova)
Disorders Related to Cereals: Prejudices and Reality
16.10 VITTORIO CASTELLANI
Chef Kumalè
Mortars & Pestles Around the World. Recipes and practices
16.25 SERGIO DI PAOLO
Palatifini Cultural Association
Conclusions
COLLATERAL ACTIVITIES AT THE MEETING
POSTAL MARKING BY POSTE ITALIANE
EXPOSITION OF ANCIENT MORTARS TAKEN BY GENOESE FAMILIES
"SPAGHETTI BRIDGE COMPETITION"
PRELIMINARY CHALLENGE FOR THE VII GENOA PESTO WORLD CHAMPIONSHIP
Share This Story, Choose Your Platform!