TO REGISTER AT PALATIFINI
The Associazione Palatifini—born in the nineties by a group of friends—organizes meetings and cultural and gastronomic events that reflect quality of life and well-being. It has created the idea, and organized the World Championships of Genoese Pesto Made with a Mortar, Campionato Mondiale di Pesto Genovese al Mortaio®, with the cultural and promotional objective of creating a strong event that will spread the excellence of Liguria, its products, and its quality of life.
How to register at the Associazione Palatifini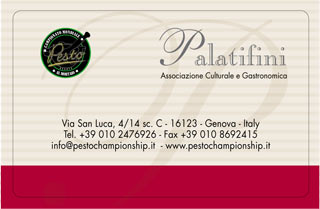 If you agree with our goals, our ideas, and in the projects of the Associazione Palatifini, and you want to participate in our activities, becoming a "Palatofine" is very simple: the annual cost is 25 euros, of which 5 euros will be given to the non-profit children's leukemia and tumor foundation, Fondo Tumori e Leucemie del Bambino Onlus.
Read and download the statutes
Download and fill in the registration form with your personal data
Send us the filled-in form via e-mail at info@pestochampionship.it or via fax +39 010 2480771
For the annual payment of 25 euros you can:
Send us a certified check on our bank account, with your name and last name, specifying on the check that it is for registration in the Association Palatinfini, in Italian, "Iscrizione associazione Palatifini". Send your check to: Banca Carige, Ag.110 di Genoa, Italy – IBAN IT32 G061 7501 4100 0000 1513 980
Pay by cash or by check, by visiting us at Via San Luca 4/14 sc. C, Genoa – but do call first!
Upon your formal registration and payment of the fees, you will receive at the address shown on your form, or can come by and pick up, your card showing that your are a proud member of Palatifini.